Accommodation in various price ranges nearby Centrum has been booked for limited participants since Reykjavik could be quite crowded during the conference period. Information about the hotels that have been booked can be found below.
Hotel list
To secure the accommodation of your choice, we recommend that you submit your registration with hotel booking as early as possible.
Please be aware of scammers contacting you to book hotels for you. We do not send an e-mail in advance offering to book hotel accommodation but will respond to e-mails sent to the above-mentioned e-mail address.
---
Hotel Reykjavík Saga
Lækjargata 12, 101 Reykjavík
Hotel Reykjavik Saga is an elegant 4 star hotel that opened in July 2022. Ideally situated at the very heart of the Reykjavik city center, the hotel is a stone's throw away from picturesque Lake Tjörnin, the cathedral, art museum, shops and restaurants.
The hotel is on Lækjargata, a historic street in the center of Reykjavik and has been designed with full respect to the surrounding buildings in a modern style that reflects Icelandic tradition. Location and environment have been fully considered throughout the design process.
Within the hotel you'll find the excellent restaurant Fröken Reykjavik Kitchen & Bar. Two large roof terraces are also at the hotel as well as an outdoor patio and a glass atrium which could serve for various types of receptions. The hotel will also feature a gym and spa with steam bath and sauna. There is access for coaches in front of the hotel for drop off and pick up.
Hotel Reykjavik Saga is 8 minute walk to the Conference venue (Harpa).
Please find Google Maps Link here.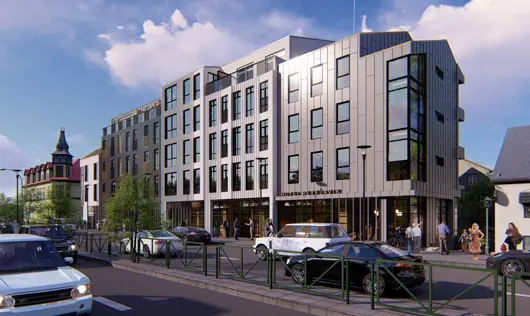 How to book
ISMSC has 10% discount with the code ISMSC2023;
1) Click the button below to book a room
2) Put the code: ISMSC2023 in the box "Enter voucher/promo code here."
---
Centerhotels – Grandi
Seljavegur 2, 101 Reykjavík
At the center of Reykjavik's booming creative quarter, you'll find the stylish, industrial Grandi. More than just a great place to stay, its bustling bar, café and restaurant are gathering places for those in the know.
In the hotel's outdoor lagoon, guests can take a dip under the canopy of stars or beneath the northern lights when nature's in the mood.
We know how to do cosy. Rooms in Grandi will deliver classic comfort with modern frills. All will come equipped with minibar, free wifi and video on demand.
Keep it simple with one of our standard rooms or go big with a luxurious deluxe.
Centerhotel Grandi is 16 minute walk to to the Conference venue (Harpa).
Please find Google Maps Link here.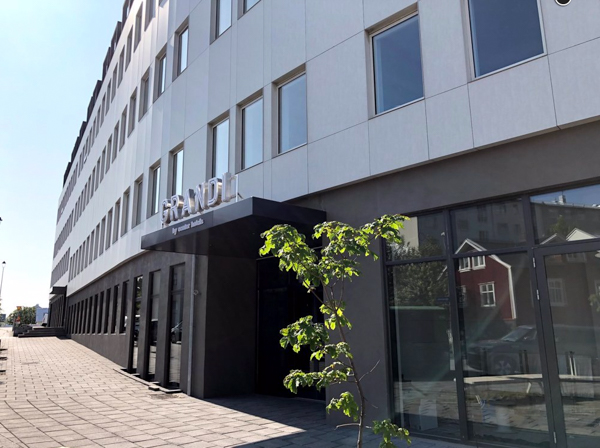 ---
Center Hotels – Plaza
Aðalstræti 4- 6, 101 Reykjavík
CenterHotel Plaza is located right by the the main square in the heart of Reykjavik. This first class hotel is ideal for business and leisure, with a warm welcoming atmosphere and services to suit all tastes. A fully equipped meeting and conference facilities are available at Plaza Hotel. That in combination with it's location makes Plaza the perfect choice for meetings of all sorts.
The 200 well-appointed bedrooms boast a bright modern décor with contemporary oak furnishings. Each room has its own free high speed internet connection, flat screen TV, shower, hairdryer, tea & coffee making facilities and a mini bar.
The Plaza hotel provides the comfort and the location to enjoy all that Reykjavik's city center has to offer and it's location creates the perfect setting for your stay with a wide variety of restaurants, cafés, shopping and nightlife at your doorstep.
Centerhotel Plaza is 9 minute walk to the Conference venue (Harpa).
Please find Google Maps Link here.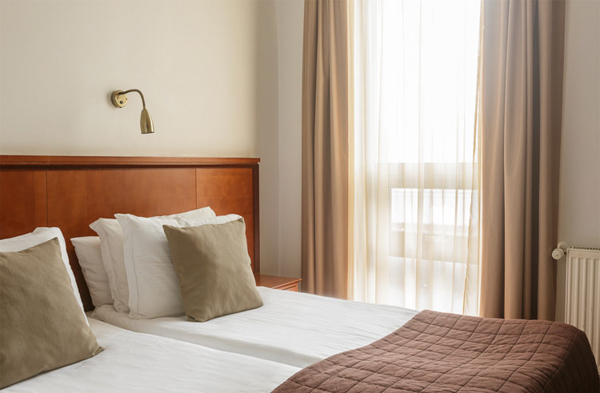 ---
Centerhotels – Klöpp
Þverholt 14, 105 Reykjavik

If staying in the center of the action is your thing, Center Hotels Klöpp is the place for you. Check into a room with all the creature comforts you need and then head straight out into the bars, cafés, boutiques and the nightlife of central Reykjavik. Klöpp is your sanctuary in the heart of the city.
Centerhotel Klöpp is 8 minute walk to the Conference venue (Harpa).
Please find Google Maps Link here.